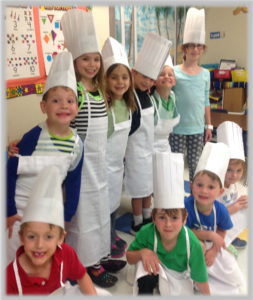 Children have FUN working together to CREATE healthy meals in a safe environment that encourages discovery and creativity!  At the end of the lesson students will receive a chefs hat and apron.
Young chefs will learn basics in:
Cleanliness and proper handling
Mixing, measuring, cutting, peeling etc.
The program includes four weekly 90 minute classes, each themed around foods from different countries.  Young chief's create an appetizer, entree, dessert, and beverage at each class.  After the preparation they learn to set the table and then dine on their delicious meal!
Contact Janis Encapara at

443.562.7374

 or by email

 

for more information

 or m

ake a Reservation